Thor The Dark World (2013 ITA) [720p]
Category

Movies

Type

HD

Language

Italian

Total size

1.3 GB

Uploaded By Transea
Downloads

737

Last checked

4 months ago

Date uploaded

9 months ago

Seeders

6

Leechers

0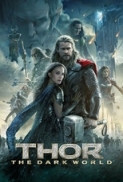 Thor fights to restore order across the cosmos… but an ancient race led by the vengeful Malekith returns to plunge the universe back into darkness. Faced with an enemy that even Odin and Asgard cannot withstand, Thor must embark on his most perilous and personal journey yet, one that will reunite him with Jane Foster and force him to sacrifice everything to save us all.



Thor: The Dark World è un film del 2013 diretto da Alan Taylor.
La pellicola, basata sul supereroe della Marvel Comics Thor, è prodotta dai Marvel Studios e distribuita dalla Walt Disney Studios Motion Pictures.

Titolo originale: Thor: The Dark World
Paese di produzione: Stati Uniti d'America
Anno: 2013
Durata: 112 min
Genere: Epico,Azione,Fantastico,Avventura,Fantascienza
Regia: Alan Taylor
Soggetto: Don Payne, Robert Rodat
Sceneggiatura: Christopher Yost, Christopher Markus, Stephen McFeely
Produttore: Kevin Feige
Produttore esecutivo: Stan Lee, Alan Fine, Victoria Alonso, Louis D'Esposiro, Nigel Gostelow, Creig Kyle
Casa di produzione: Marvel Studios
Distribuzione: Walt Disney Studios Motion Pictures


Cast:

Chris Hemsworth: Thor
Natalie Portman: Jane Foster
Tom Hiddleston: Loki
Anthony Hopkins: Odino
Stellan Skarsgård: Erik Selvig
Idris Elba: Heimdall
Jaimie Alexander: Lady Sif
Christopher Eccleston: Malekith
Adewale Akinnuoye-Agbaje: Algrim / Kurse
Kat Dennings: Darcy Lewis
Jonathan Howard: Ian Boothby
Rene Russo: Frigga
Zachary Levi: Fandral
Tadanobu Asano: Hogun
Ray Stevenson: Volstagg

Doppiatori Italiani:



Massimiliano Manfredi: Thor
Valentina Mari: Jane Foster
David Chevalier: Loki
Dario Penne: Odino
Ambrogio Colombo: Erik Selvig
Alberto Angrisano: Heimdall
Stella Musy: Lady Sif
Stefano Benassi: Malekith
Alessia Amendola: Darcy Lewis
Davide Perino: Ian Boothby
Emanuela Rossi: Frigga
Andrea Mete: Fandral
Alberto Bognanni: Hogun
Roberto Draghetti: Volstagg





Thor (Chris Hemworth), potente Vendicatore, è costretto a confrontarsi con un acerrimo nemico per salvare la Terra e i Nove Regni da un oscuro nemico che precede l'universo stesso. Una antica razza con a capo il vendicativo Malekith (Christopher Eccleston) fa precipitare il cosmo nelle tenebre e, di fronte a un pericolo contro cui neanche Odino (Anthony Hopkins) e Asgard possono nulla, Thor deve imbarcarsi nel più personale e pericoloso dei viaggi. Riunendosi con Jane Foster (Natalie Portman), sacrificherà ogni cosa pur di salvare l'umanità....







[ Info sul file ]

Nome: Thor The dark world HD.mkv
Data: Wed, 24 Jan 2018 01:08:58 +0100
Dimensione: 1,353,091,053 bytes (1290.408185 MiB)

[ Magic ]

Tipo file: data

[ Info generiche ]

Durata: 01:52:03 (6723.174 s)
Contenitore: matroska
Totale tracce: 2
Traccia n. 1: video (V_MPEG4/ISO/AVC) {und}
Traccia n. 2: audio (A_AAC) {unknown}
Muxing library: Lavf57.71.100
Writing application: Lavf57.71.100

[ Dati rilevanti ]

Risoluzione: 1280 x 534
Larghezza: multipla di 32
Altezza: multipla di 2
DRF medio: 21.54351
Deviazione standard: 5.467406
Media pesata dev. std.: 5.436347

[ Traccia video ]

Codec ID: V_MPEG4/ISO/AVC
Risoluzione: 1280 x 534
Frame aspect ratio: 640:267 = 2.397004
Pixel aspect ratio: 1:1 = 1
Display aspect ratio: 640:267 = 2.397004
Framerate: 24.39 fps
Dimensione stream: 960,895,992 bytes (916.381828 MiB)
Durata: 01:50:09 (6608.979089 s)
Bitrate (bs): 1163.14 kbps
Qf: 0.06977

[ Traccia audio ]

Codec ID: A_AAC
Freq. campionamento: 48000 Hz
Canali: 2
Dimensione stream: 388,747,956 bytes (370.738941 MiB)
Tipo di bitstream (bs): AAC LC (Low Complexity)
Frames (bs): 315,145
Durata: 01:52:03 (6723.093333 s)
Chunk-aligned (bs): Sì
Bitrate (bs): 462.582251 kbps VBR
Freq. campionamento (bs): 48000 Hz
Modo (bs): 2: front-left, front-right

[ Bitstream video ]

Tipo di bitstream: MPEG-4 Part 10
User data: x264 | core 142 r2491 24e4fed | H.264/MPEG-4 AVC codec
User data: Copyleft 2003-2014 | http://www.videolan.org/x264.html | cabac=1
User data: ref=3 | deblock=1:0:0 | analyse=0x3:0x113 | me=hex | subme=7 | psy=1
User data: psy_rd=1.00:0.00 | mixed_ref=1 | me_range=16 | chroma_me=1
User data: trellis=1 | 8x8dct=1 | cqm=0 | deadzone=21,11 | fast_pskip=1
User data: chroma_qp_offset=-2 | threads=12 | lookahead_threads=2
User data: sliced_threads=0 | nr=0 | decimate=1 | interlaced=0
User data: bluray_compat=0 | constrained_intra=0 | bframes=3 | b_pyramid=2
User data: b_adapt=1 | b_bias=0 | direct=1 | weightb=1 | open_gop=0 | weightp=2
User data: keyint=240 | keyint_min=24 | scenecut=40 | intra_refresh=0
User data: rc_lookahead=40 | rc=abr | mbtree=1 | bitrate=1152 | ratetol=1.0
User data: qcomp=0.60 | qpmin=0 | qpmax=69 | qpstep=4 | vbv_maxrate=17500
User data: vbv_bufsize=17500 | nal_hrd=none | filler=0 | ip_ratio=1.40
User data: aq=1:1.00
SPS id: 0
Profile: [email protected]
Num ref frames: 4
Aspect ratio: Custom pixel shape (801:800 = 1.00125)
Chroma format: YUV 4:2:0
PPS id: 0 (SPS: 0)
Tipo di codifica entropica: CABAC
Weighted prediction: P slices - explicit weighted prediction
Weighted bipred idc: B slices - implicit weighted prediction
8x8dct: Sì
Totale frames: 161,193
Drop/delay frames: 0
Frames corrotti: 0

P-slices: 73058 ( 45.323 %) #########
B-slices: 85377 ( 52.966 %) ###########
I-slices: 2758 ( 1.711 %)
SP-slices: 0 ( 0.000 %)
SI-slices: 0 ( 0.000 %)

[ Analisi DRF ]

DRF nedio: 21.615039
deviazione standard: 5.575558
max DRF: 50

DRF<2: 0 ( 0.000 %)
DRF=2: 1 ( 0.001 %)
DRF=3: 5 ( 0.003 %)
DRF=4: 41 ( 0.025 %)
DRF=5: 35 ( 0.022 %)
DRF=6: 189 ( 0.117 %)
DRF=7: 158 ( 0.098 %)
DRF=8: 315 ( 0.195 %)
DRF=9: 1166 ( 0.723 %)
DRF=10: 2747 ( 1.704 %)
DRF=11: 4809 ( 2.983 %) #
DRF=12: 2621 ( 1.626 %)
DRF=13: 1840 ( 1.141 %)
DRF=14: 2613 ( 1.621 %)
DRF=15: 3783 ( 2.347 %)
DRF=16: 5487 ( 3.404 %) #
DRF=17: 7855 ( 4.873 %) #
DRF=18: 9135 ( 5.667 %) #
DRF=19: 11133 ( 6.907 %) #
DRF=20: 12483 ( 7.744 %) ##
DRF=21: 12428 ( 7.710 %) ##
DRF=22: 12357 ( 7.666 %) ##
DRF=23: 11600 ( 7.196 %) #
DRF=24: 10158 ( 6.302 %) #
DRF=25: 9490 ( 5.887 %) #
DRF=26: 8139 ( 5.049 %) #
DRF=27: 7553 ( 4.686 %) #
DRF=28: 6225 ( 3.862 %) #
DRF=29: 5027 ( 3.119 %) #
DRF=30: 3718 ( 2.307 %)
DRF=31: 2603 ( 1.615 %)
DRF=32: 1883 ( 1.168 %)
DRF=33: 1227 ( 0.761 %)
DRF=34: 770 ( 0.478 %)
DRF=35: 558 ( 0.346 %)
DRF=36: 372 ( 0.231 %)
DRF=37: 194 ( 0.120 %)
DRF=38: 85 ( 0.053 %)
DRF=39: 53 ( 0.033 %)
DRF>39: 273 ( 0.169 %)

P-slices DRF medio: 21.26724
P-slices deviazione std.: 5.808534
P-slices max DRF: 50

B-slices DRF medio: 21.997388
B-slices deviazione std.: 5.30333
B-slices max DRF: 46

I-slices DRF medio: 18.992023
I-slices deviazione std.: 6.156228
I-slices max DRF: 45

[ Analisi DRF (corretta) ]

Fine titoli di testa: 00:01:01 (60.803608 s) - frames ignorati: 1483

DRF nedio: 21.54351
deviazione standard: 5.467406
max DRF: 40

DRF<3: 0 ( 0.000 %)
DRF=3: 4 ( 0.003 %)
DRF=4: 40 ( 0.025 %)
DRF=5: 34 ( 0.021 %)
DRF=6: 187 ( 0.117 %)
DRF=7: 156 ( 0.098 %)
DRF=8: 313 ( 0.196 %)
DRF=9: 1166 ( 0.730 %)
DRF=10: 2744 ( 1.718 %)
DRF=11: 4804 ( 3.008 %) #
DRF=12: 2621 ( 1.641 %)
DRF=13: 1835 ( 1.149 %)
DRF=14: 2613 ( 1.636 %)
DRF=15: 3779 ( 2.366 %)
DRF=16: 5481 ( 3.432 %) #
DRF=17: 7855 ( 4.918 %) #
DRF=18: 9131 ( 5.717 %) #
DRF=19: 11132 ( 6.970 %) #
DRF=20: 12461 ( 7.802 %) ##
DRF=21: 12380 ( 7.752 %) ##
DRF=22: 12300 ( 7.701 %) ##
DRF=23: 11552 ( 7.233 %) #
DRF=24: 10088 ( 6.316 %) #
DRF=25: 9394 ( 5.882 %) #
DRF=26: 8007 ( 5.013 %) #
DRF=27: 7446 ( 4.662 %) #
DRF=28: 6080 ( 3.807 %) #
DRF=29: 4973 ( 3.114 %) #
DRF=30: 3669 ( 2.297 %)
DRF=31: 2588 ( 1.620 %)
DRF=32: 1872 ( 1.172 %)
DRF=33: 1207 ( 0.756 %)
DRF=34: 750 ( 0.470 %)
DRF=35: 527 ( 0.330 %)
DRF=36: 301 ( 0.188 %)
DRF=37: 138 ( 0.086 %)
DRF=38: 54 ( 0.034 %)
DRF=39: 26 ( 0.016 %)
DRF>39: 2 ( 0.001 %)

P-slices DRF medio: 21.165948
P-slices deviazione std.: 5.638163
P-slices max DRF: 39

B-slices DRF medio: 21.959601
B-slices deviazione std.: 5.270599
B-slices max DRF: 40

I-slices DRF medio: 18.552075
I-slices deviazione std.: 5.224157
I-slices max DRF: 36

[ Conformità al profilo ]

Profilo selezionato: MTK PAL 6000
Risoluzione: 1280 x 534 > 720 x 576
Framerate: 24.39 <> 25
Buffer underflow: 00:00:03 (frame 80)
Buffer underflow: 00:00:04 (frame 92)
Buffer underflow: 00:00:04 (frame 101)
Buffer underflow: 00:00:05 (frame 110)
Buffer underflow: 00:00:05 (frame 122)

Rapporto creato da AVInaptic (18-12-2011) in data 24-01-2018 14:18:11




Files:
Thor The dark world HD.mkv (1.3 GB)
Code:
udp://tracker.coppersurfer.tk:6969/announce

udp://tracker.opentrackr.org:1337/announce

udp://tracker.leechers-paradise.org:6969/announce

udp://glotorrents.pw:6969/announce

udp://p4p.arenabg.com:1337/announce

udp://p4p.arenabg.ch:1337/announce

udp://eddie4.nl:6969/announce

udp://inferno.demonoid.pw:3391/announce

http://ipv4.tracker.harry.lu/announce

http://ipv4.tracker.harry.lu:80/announce

http://t.nyaatracker.com/announce

http://tracker.devil-torrents.pl:80/announce

http://tracker.devil-torrents.pl/announce

http://open.kickasstracker.com/announce

http://open.kickasstracker.com:443/announce

http://t.nyaatracker.com:80/announce

http://retracker.mgts.by:80/announce

http://45.33.11.224/announce

http://tracker.torrentyorg.pl:80/announce

http://pt.lax.mx:80/announce